God is so amazing! He cares about every feeling we have, every small seemingly insignificant thing that we care for, He cares for. Today I got to see that in a powerful way through a miracle in daily life. A modern day bread miracle.
A stressy situation
Every Sunday here in Newcastle, where we currently live, they have a farmers market. We discovered it not too long ago, and we love it. There are just so much fresh things, organic veggies, nuts, fruits and we even found this amazing bread that I can eat (I have certain allergies, so a bread like that is quite special!).
Today however I ran late, and still had to take out money before I could go. That turned out to be more complicated than planned, so when I finally succeeded and was on my way to the market there were only 20 minutes left. This whole situation became pretty stressy!
Who masters who
As I sat in the car I realized that the bread I had looked forward to so much would be gone by now. These breads generally sell out very early. Normally this would have made me overwhelmed by frustration, sadness and I would have been so stressed out…
But just as I was on the edge to react in my "normal" way, I got reminded about a quote that our pastor read to us not long ago:
"Man can shape circumstances, but circumstances should not be allowed to shape the man. We should seize upon circumstances as instruments by which to work. We are to master them, but should not permit them to master us." Help In Daily Living, p49
A decided no
Then and there in the car, I made a decision. No! I was not going to let this situation stress me out. I suffer from severe eczema, and lately I have been realizing that stress probably plays a bigger role in it than I thought, so I really did not want to add stress that could possibly worsen it. And even if it wasn't for my eczema, I would prefer the stress-free option.
So I decided to pray.
Prayer makes the difference
I needed help to not react in my normal way, to not let this situation master me, so I decided to put my trust in God.
Have you ever had that you pray, but instead of really believing in what you pray for, it is maybe more like hoping for or even wishful thinking? And you still hold on to the stress or negative feelings. I know that I at least have experienced that before.
Holding fast to His promises
But this time was different. I decided to actually do what God said and trust that He would help me to do so. To not worry (Matthew 6:34) and to trust that He helps us and gives us what we need (Philippians 4:19, Matthew 7:11). And trust that God could even could do a miracle if that was the best for the situation, but that even if it wasn't, I still would not need to be stressed. I could just come to Him and let Him take my burden (Psalm 55:22, 1 Peter 5:7).
A confident prayer
But I also knew that my God is a loving and caring God. That nothing is too small or insignificant for Him and that I could come to Him with all my thoughts and feelings. So I prayed.
"Dear God, I don't want to be stressed and upset because I know that's not good for my health. I ask You to help me to give those feelings over to You now and accept that the situation is like it is. Please help me to make the best of it.

But You also see how much it meant for me with that bread and how much I looked forward to it. If you want, I know that You can do a miracle, please let there still be just one bread left for me. I know that You care for even my small desires, and even could exceed them and let them give me a bread for free if that would be your will.

I will trust You no matter what happens now and not worry about the bread. And I ask You that I will still be able to get everything we need from the market.

In Jesus name, amen."
Afterwards I felt such a peace and joy as I continued the drive to the market. Wow, what a different reaction. Thank you God for that miracle! Anyone who has certain character habits knows that it can be very hard to respond in a different way than you generally do. So that was really a wonderful prayer answer. But the story is not over yet.
The bread miracle
Once I arrived at the farmers market, I went straight to the bread section. I knew logically that it should not still be there, but deep inside of me I believed that there would still be one loaf of bread left.
I asked for my specific bread, and THERE IT WAS! Precisely one loaf left of the delicious bread. And they sold it for almost half price. How happy I was, so thankful to God for saving it for me. God enabled me to overcome the stress and even saved this bread for me. But the story still does not end here, God is that good!
Here you go
The lady behind the counter suddenly said that they had another bread that was also made from the same ancient grains. And out of nowhere she just said that I could have it for free!
I have to admit, I stood there quite shocked. I was thinking that I of course could not take it just like that. But then I remembered my prayer. I expressed the faith for God to even be able to give a bread for free if that would be His will. So I understood that this was a gift from God,
With a huge smile I thanked the kind lady x times and thanked God even more as I walked away. I was completely amazed by what He had just done! What a wonderful God we serve. When we let go of our own will and obey His, He is able to give us above and beyond. But, and I know I am repeating myself, it still did not end there…
Double up
I went to one of the other stands that usually also sell a bread that I can have, but unfortunately that bread was sold out. But the women behind the counter said that they had another bread very similar to the one I normally buy. And guess what happened? She said that I could have that bread for free!
What was going on?? I did not see that one coming. I had already been so blessed. I told her that I could not take it, but she insisted. There I was, with three breads instead of zero. And I only needed to pay half the price for one of them. God is SO good! And I also got everything else that I needed from the market without anything being sold out.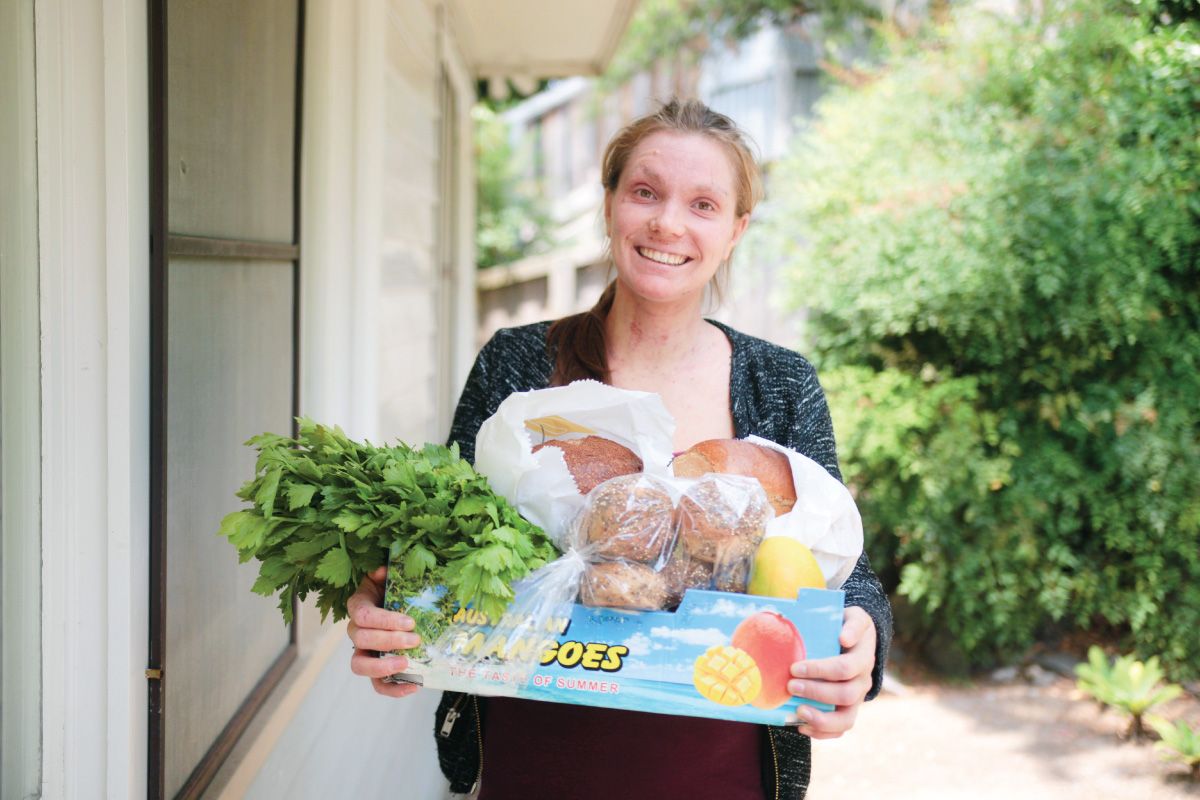 The right order
God did not need to provide that bread for me in order for me to feel loved by Him. He certainly did not need to add two free loaves on top of it – He already had my trust. That is an important point.
If He would provide miracles in order for us to believe in Him, our faith would be in those circumstances instead of God's word telling us about His love for us. Circumstances can change. Our faith would then be like a wave blown and tossed by the wind (James 1:6).
Firm in faith
God wants us to be firm in faith no matter the circumstances. He wants us to always trust His love and goodness, and therefore trust to do His will. Because to do His will is what will give us inner peace.
When we put our trust in Him and ask for His help to react in a different way than we normally would, He is faithful to help us. When we seek Him first, He takes care of our needs (Matthew 6:33), but God also knows and cares for those things that we don't per say need, but that are important to us. He longs to even exceed our expectations (Ephesians 3:20). This I got to experience in a wonderful way today. Thank you God for being such a caring and loving father!
God really surprised me and made me happy with all that bread, but even though it was amazing, the biggest miracle that day I have to say was the peace that He helped me to experience.
Live God's Word Today -application
If you also want to let go of stress in your daily life my encouragement to you is – dare to trust His word, and the promises He has made. That it truly is possible (Philippians 4:13). And when you feel that you are on your way down the wrong track – stop, and pray. In this way, master situation by situation, thought by thought. It is through the small choices in life, the big changes will come.
Are you willing to ask God for help to master the circumstances in your daily life, instead of them mastering you?